Specifications:
9 3/8 x 11 5/8 in.
24 x 29,5 cm
240 pages
Over 300 illustrations,
mainly in colour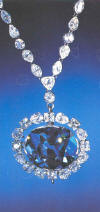 Contents:
Gemstones:
Their characteristics and their origin
Gemstones:
Their extraction and processing
Portraits of the gemstones
Portraits of ornamental gems
Gemstones:
Symbols of authority and power
Beauty, magic, and medicine
The fascination of internal life
A passion for collecting
Natural or not?
Bibliography
Index
Authors:
Dr. Eduard J. Gübelin is one of the foremost gemologists in the world. Gübelin was the first to establish a systematic classification of inclusions. He has published several books about gemstones. For his voluminous contribution to gemology, he received several awards. In recognition of his promoting gemology, he was received the Médaille de Ville de Paris in 1993.

Dr. Franz-Xaver Erni is a freelance journalist (PEN). He was awarded his doctorate in the field of philosophy. He was in charge of various magazines as the editor-in-chief and has also been writing on gemological topics for many years. He received the "Plume d'or" for his contribution "The Color and Purity of Diamonds".